back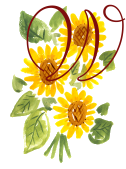 elcome to the USF Bookstore's newsletter about our recent Faculty Reception held on April 24th 2008 entitled Hana Matsuri which translates to "flower festival". This Japanese themed and "green" reception was to emulate the similar flower festivals held in Japan during the spring where a variety of finger foods are eaten and people can mingle, chat and celebrate the spring. Ours followed similarly with the Cherry Blossom Festival held annually in San Francisco's Japantown so be sure to check theirs out next year for fun, food, and cultural immersion!

THE MAIN EVENT
First, we would like to thank everyone who attended our reception; without you, it wouldn't have been as successful as it was! We hope you enjoyed yourselves and had a chance to try all the different foods we offered, even if some of them might have looked a little odd! We appreciate everyone who paid your respects to the gods by pausing out our entry table as well as picking up a bit of greenery to brighten up your office! We're sure those bamboo plants are bringing all of you good luck!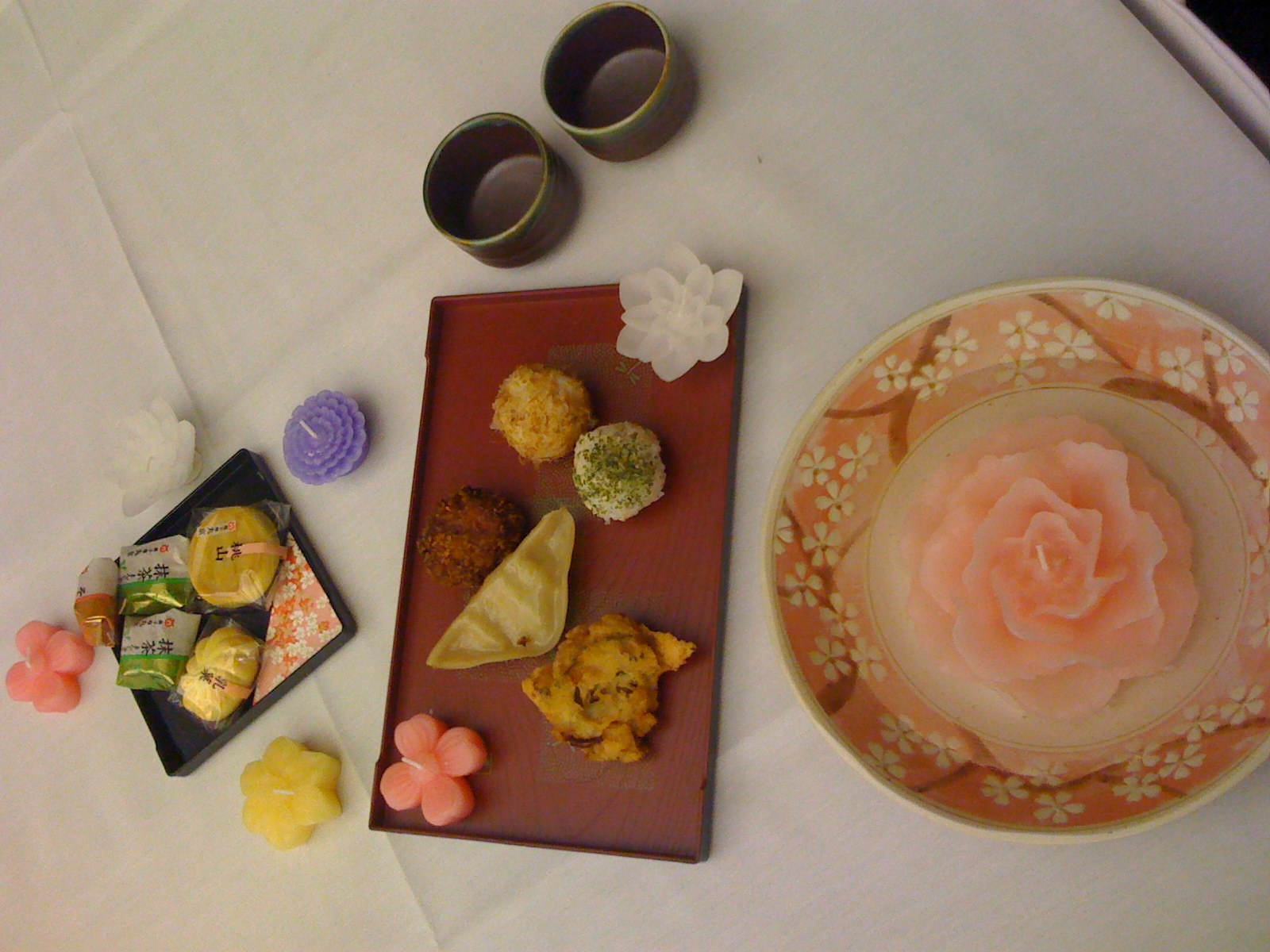 Once again, the various representatives who attended our reception were able to provide some great raffle prizes! OMEDETTO! to everyone who won! From fancy cookbooks to fabulous giftcards, there was certainly no shortage of generousity. And WOW! for Apple® who provided FOUR iPod shuffles in our raffle! While not everyone was able to win a raffle prize, we hope you enjoyed the grab bags we had filled with goodies, again, provided by the various representatives who attended the reception. If you're curious as to who they were (and I'm sure many of you are), check out our winner's list!
For those who attended our reception, we hope you weren't intimidated by the food selections. We tried to start off with more familiar looking items to ease you into the unusual. Thank you to catering for being willing to experiment with us as we attempted this menu of foods. While you might not know what "gyoza" is or recall just what a "croquette" describes, I'm sure seeing them in person would bring instant recognition to your standard potsticker and fried mashed potatoes. Hopefully sushi (essentially rice rolls) and mochi (sticky rice dumpling with filling) were something everyone has encountered and enjoyed before.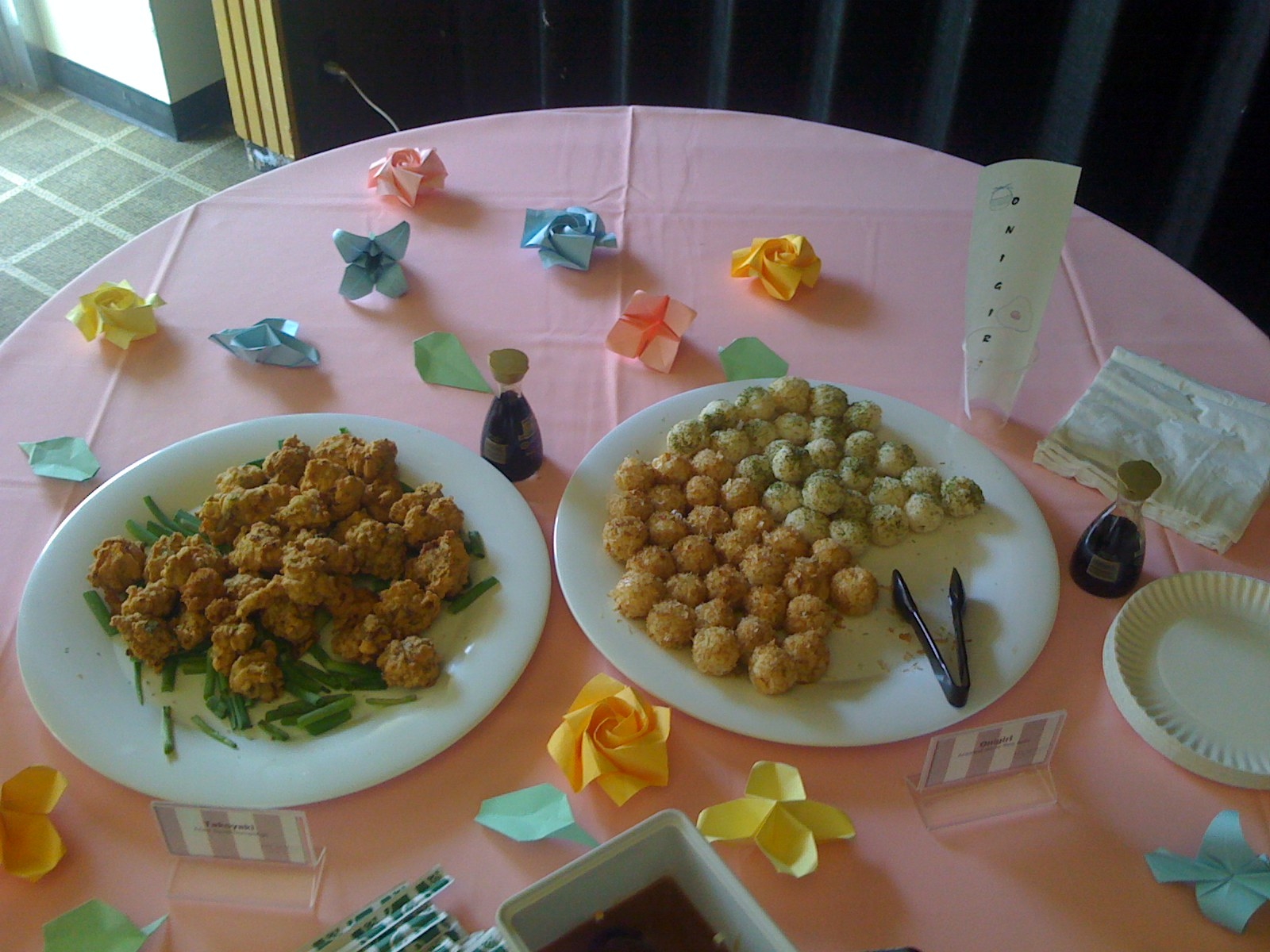 But what I'm sure most of you were wondering about were those dumplings called "takoyaki" and "onigiri" not to mention the "imagawayaki". Fear not! We're here to let you know that they weren't anything scary at all! Takoyaki is commonly know as octupus balls not because they have to have octupus in them, but because they are supposed to somewhat resemble the creatures. Normally, these days they only contain squid with a little bit of beef sometimes mixed in. And those onigiri are nothing more than rice balls, literally! Ours were simply flavored with bonita flakes (a kind of dried fish sprinkling) and roasted seaweed. Lastly, those imagawayaki were simply pancakes filled with redbean. See? Nothing really scary at all!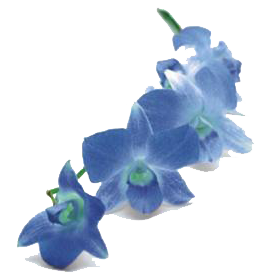 Now one thing we would like to mention is about the Sunshine Kids Foundation® which is dedicated to children with cancer. During the reception we had some of you participate in folding origami cranes using the special "Wish Crane." Designed by Tansu©, the company sends these cranes to the Sunshine Kids® in the well-established belief of "one thousand paper cranes to fulfill a wish." To those of you who folded a crane with us, thank you! And for any who would like to make one as well, visit Tansu's special website. We hope you'll help bring us one step closer to granting all those children's wishes.
To all of our attendees, thank you for daring to try new things and for helping us participate in the fight against cancer! In the end it looks like everyone had fun and liked the food! I know the various representatives were happy to speak with new and familiar faces and we hope you were able to get any and all questions you had answered! Also, our great thanks to those of you who brought along your book orders as well as the to the many of you who promised and delivered your orders to us shortly thereafter! We'll see you all at the next one!

Look forward to our next reception! It will be held Thursday October, 30th. For a mini preview, click below:


USF AUTUMN

Check out some of the many pictures we took of the event! The food! The guests! Even the many "flowers" we had, made of recycled colored paper! And origami crane lesson, anyone?

Special thanks to the following vendors (in alphabetical order):

Apple®
Aspen®
Cengage Learning®
Houghton Mifflin®
Jostens®
McGraw-Hill®
MPS Virginia®
Pearson®
Rittenhouse®
XanEdu®

and also to the Rhetoric and Composition Department who came to promote
Writing for a Real World and Speaking/Writing Connection
two USF student/faculty authored titles.